Though still a newcomer to the web design field, I take pride in producing a graphically pleasing product with fully valid code. But I am willing to work for more than reasonable prices to build up my design portfolio.
If you've got a small project, and a small budget, but want something uniquely your own, choosing Æther Pie may be the perfect option.
Finished Websites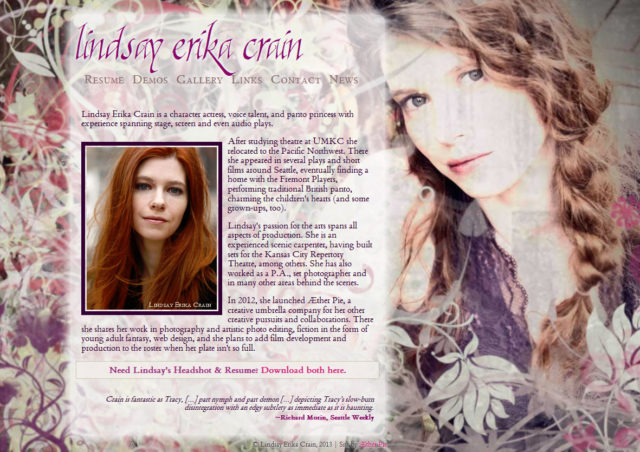 The list may be small, but I'm proud of it, and it's growing.
---
Commissions List
Want an affordable and unique personal website? Let's talk! If I think we're a good match and I can give you what you want, I'll add you to my list. I am currently working on:
Photography site for a Seattle based DP
Home page for Fremont Philharmonic
Web Portfolio
The Fremont Players are a Seattle based British panto troupe. After my first design approach hit a wall, I went for something more clean and graphical, but I still wanted it to be very playful. So I emphasised unique fonts and lots of colour accents, while keeping the background neutral. The Design Essentials Designed from […]
This website was an all-encompassing home page for an actor and artist. I took my inspiration from his love of Piet Mondrian, his use of crayons in his artwork, and of course boxes. Emphasis was made in the ability for him to add custom elements on his own, so I created multiple classes for flexibility […]
My own personal acting site. This one went through many iterations. It was the primary reason I started learning how to code. And after all my test sites and alterations of other designers' work, I finally hit on one that is all me. The simple design allows my background portrait to do most of the […]